Our hair plays a significant role in the look and personality of a person. We all want our hair to be in the best of health and looks. So we eagerly look for ways to improve hair health, look and feel. Our hair can benefit by including a healthy diet and top-quality natural hair care products in the daily regime to nourish and hydrate hair and resolve our hair problems.
We can procure such best quality and effective hair care products from brands that exclusively develop hair care products. These brands have a great reputation and expertise in building top of the class hair care products that promote hair health and looks in users. They have spent a lot of time and effort in researching unique hair care needs of their users and identifying most pure, genuine and effective ingredients for formulating their hair care products. They have developed their products by strictly enforcing the established standards and checks. For these reasons, we can rely on these brands for buying hair care products. Thanks to the internet, searching these tried and trusted Indian hair care brands has become super easy for us, though we need to devote some time and effort towards it.    
If you, too, are actively searching for leading and most reputed India-based hair care brands to procure hair products from, your search ends here. 
Here is a list of top Indian hair care product manufacturers and sellers. Their offerings have gained immense popularity among people who care for their hair health and looks. 
·        Gozel
·        Vedix
·        WOW Skin Science
·        SkinKraft
·        Biotique 
·        Himalaya
·        Khadi Natural
Let us now know about these hair care brands, their products, and their benefits besides other aspects in more detail. 
1. Gozel
Gozel has become the most preferred hair care brand among users in India due to its various hair health benefits. Gozel's hair care products are the best in quality and effectively fulfill the hair care needs of people with multiple hair types and concerns.  
Made entirely from nature-based ingredients like aloe vera, sunflower oil, onion oil, black seed oil, sesame oil, almond oil and castor oil, its products provide rich nutrition and hydration to hair follicles and scalp. Also, they help to resolve hair problems like split ends, broken and damaged hair, itchy scalp, scalp damage, and infection. Moreover, they are beneficial for concerns like dandruff, dryness, inflammation, flakiness, sensitivity, hair thinning and premature hair graying.
Gozel's range of hair care products includes Duo Nourish & Repair Conditioner, which repairs and protects damaged hair besides resolving other hair concerns. Gozel also offers Anti-Hair Fall Onion Shampoo that helps to improve hair texture, reduces hair breakage, and awards some further hair health gains. Besides this, this brand endorses itself with its best-selling product Deep Nourishment Hair Oil, which helps address various hair problems like hair breakage and hair graying. Apart from hair care products, Gozel also provides naturally formulated skincare products.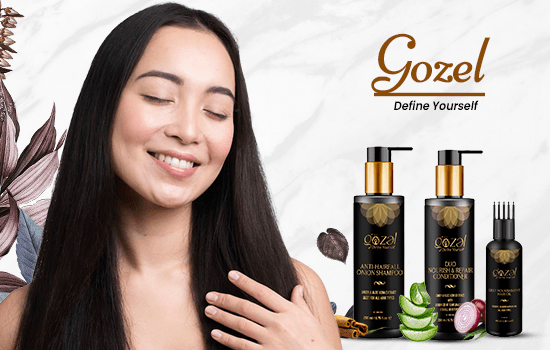 Regular use of its hair products provides users with various benefits like transformation of hair texture from within, makes hair manageable and restores the pH balance of the scalp. The natural ingredients present in Gozel haircare products also activate and strengthen hair follicles, detangle hair, restore hair vitality and soothe the scalp. Thus, promoting growth of shiny, cleaner, stronger, and healthy hair.
Gozel hair care products are devoid of any harmful chemicals like parabens, sulfates, and mineral oils. So while using them, you need not worry about the damage caused to hair due to harsh chemicals. Besides this, these products are cruelty-free.
Gozel helps their users to make informed choices by sharing useful and pertinent details about their products. This information includes product benefits and ingredients used in them, and it also contains information about how to use them in a stepwise manner for getting the best results. Professional tips related to products and delivery and returns-related information are also available. 
Gozel provides its consumers with a free consultation from experts. You can utilize it if you have any queries about the products and its usage.
Users can opt for online payment and cash-on-delivery options to purchase these products to make them a part of their daily hair care regimen. 
2. Vedix
Vedix is one of India's leading and most trusted hair care brands. Its popularity among hair care users can be attributed to various reasons. One of them is its wide variety and customization for people with varying hair care needs. Through an online form, Vedix allows users to share their requirements and problems. Accordingly, it suggests to them the best hair shampoo or other hair care products best suited for their hair. Products offered by Vedix are ayurvedic-based formulations.      
To better understand your hair type, Vedix takes you through some predetermined questions. After learning about your hair type, its expert will write about the hair problems you may be suffering from, and Vedix will suggest you a list of the hair care products and their details. 
Along with suggested products, Vedix will provide you with the details about applying a specific product correctly to get the best results from it.
Vedix's expertise is not just limited to hair care products; it also offers a range of ayurvedically-formulated skincare products.  
3. WOW Skin Science
WOW Skin Science brand has acquired immense popularity amongst young people. It has utilized social media's power to spread awareness about its products and build its brand name. People like its products due to the good outcomes and exemplary results. Apart from hair care products, Wow Skin Science also provides body care products, skincare products, wellness products, and nutritional supplements. 
WOW Skin Science sells its hair care products online and in physical stores. WOW Skin Science Onion Black Seed Hair Oilis one of its most popular hair care products. It also offers WOW Skin Science Apple Cider Vinegar Shampoo, WOW Skin Science Rice Water And Lavender Shampoo, and WOW Skin Science 10 In 1 Miracle Hair Oil.  
4. SkinKraft
SkinKraft haircare and skincare brands utilize the power of e-commerce to deliver their products right at the customers' doorsteps. SkinKraft's experts first understand a user's hair type and accordingly suggest products to them.
A separate column on the SkinKraft website helps educate the visitors about their hair in detail. It enables them to grasp a better understanding of their hair care requirements.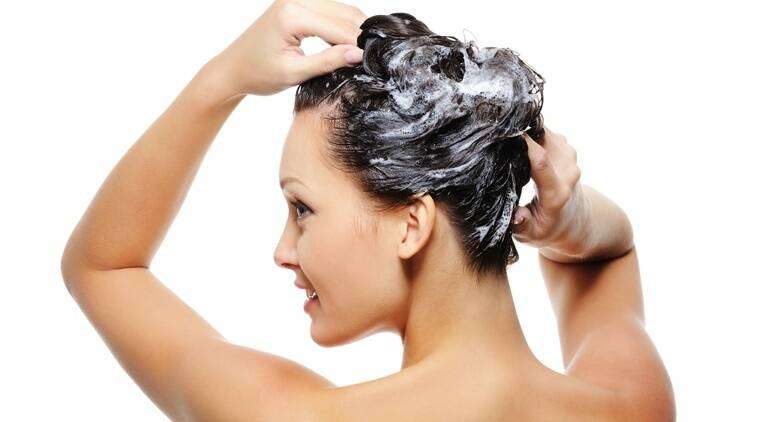 The ingredients used in SkinKraft's haircare products are clinically tested and their formulations are approved by dermatologists. Modern lifestyle and environmental problems damage the hair from the roots, and SkinKraft has formulated its products keeping this thing in mind. 
 If you seek a customized hair care product from SkinKraft, you need to participate in its quiz. It enables SkinKraft's team to gather more knowledge about your hair.
 Skinkraft Dry Scalp Treatment & Anti-Dandruff Shampoo, Skinkraft Intense Moisture with Total Damage Repair Conditioner and Skinkraft Rosemary & Caffeine Pro-Growth Hair Serum are some of the high-quality hair products that this reputed haircare brand offers.  
5. Biotique 
Biotique hair care products are formulated from naturally-derived Ayurvedic ingredients. Biotique is popular among users due to various hair health benefits. The products nourish the scalp, strengthen the hair roots, prevent dryness and irritation in the scalp and promote new hair growth. These products also help reduce hair breakage, halting premature hair graying and detangling hair. Moreover, they are free from harmful chemicals and preservatives. 
 Some of the most beneficial hair care products from Biotique are Biotique Bio Musk Root Treatment Pack, Biotique Bio Watercess Fresh Nourishing Conditioner and Biotique Bio Bhringraj Therapeutic Hair Oil. These are also featured among its rich collection of hair care products.
 Apart from hair care products, Biotique also provides skin care products, body care products, and natural makeup products.
6. Himalaya
Haircare products from Himalaya have become a household name in India and all over the world. Formulated from herbs, this brand's products grant users' various hair health benefits like nourishment and frizz-free hair. Apart from detangling hair, they also help to promote hair and scalp health. They are also useful in reducing hair breakage and reviving the damaged hair.  Himalaya hair care products eventually foster the growth of smooth, soft, shiny and strong hair.  As Himalaya hair care products are made from natural ingredients, they do not cause any side effects. 
Some of its top-rated hair products are Himalaya Dryness Defense Detangler & Conditioner, Himalaya Protein Hair Cream Extra Nourishment, Himalaya Anti-Hair Fall Hair Oil and Himalaya Gentle Daily Care Protein Shampoo. These are a few of the most beneficial products from Himalaya.
Himalaya's range of products is beautifully presented and well organized on its website. Buying hair care and other products is such an ease with this herbal product provider. 
7. Khadi Natural
Khadi Natural products are made up of active herbal elements derived from plant extracts. They are manufactured under the supervision of qualified Ayurvedic doctors, and their products rigorously follow the established GMP, WHO, and ISO standards.
Khadi Natural is a leading manufacturer and supplier of quality and effective hair care products. Its products are not only consumed in various states of India but also they are exported to 25 countries in the world. 
Users prefer Khadi Natural hair care products due to their various hair health benefits. These products provide benefits such as nourished and strengthened hair and makes them smooth, soft, and shiny. They also help to improve hair look and promote hair growth. 
Khadi Natural Herbal Amla & Bhringraj Hair Cleanser SLS & Paraben Free and Khadi Natural Green Tea & Aloe Vera Hair Conditioner are some of the high quality hair care products offered by Khadi Natural. Its range of hair care products also include Khadi Natural Onion & Fenugreek Shampoo and Khadi Natural Amla Hair Oil Paraben & Mineral Oil Free. 
Now you are aware of leading Indian hair care brands offering high quality and beneficial hair care products for promoting hair health. To obtain more information about the benefits, ingredients, and other aspects of their products, don't hesitate to visit their websites. If you feel they are the best fit for your unique hair care needs, click the shop button and begin your hair wellness journey.